Central Florida Full Page Advertising Campaign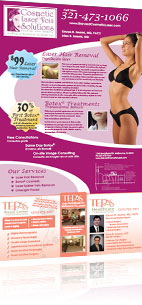 eWareness was tasked with creating a full page newspaper for TEPAS Health Care and Cosmetic Laser Solutions for the Central Florida Spanish/English publication Al Dia Today.
With a deadline of just over 24 hours, the graphics team at eWareness met with the client, came up with an ad concept and created a camera-ready 11″ x 21″ back page ad.
The advertisement was so successful that eWareness' client signed an annual contract for the back page.
---
Feel free to contact us for your free quote:
[contact-form-7 id="49″ title="Request A Quote"]